Christmas Cracker 2021- Sunday 12th Dec 2021 - 9am @ Accrington Academy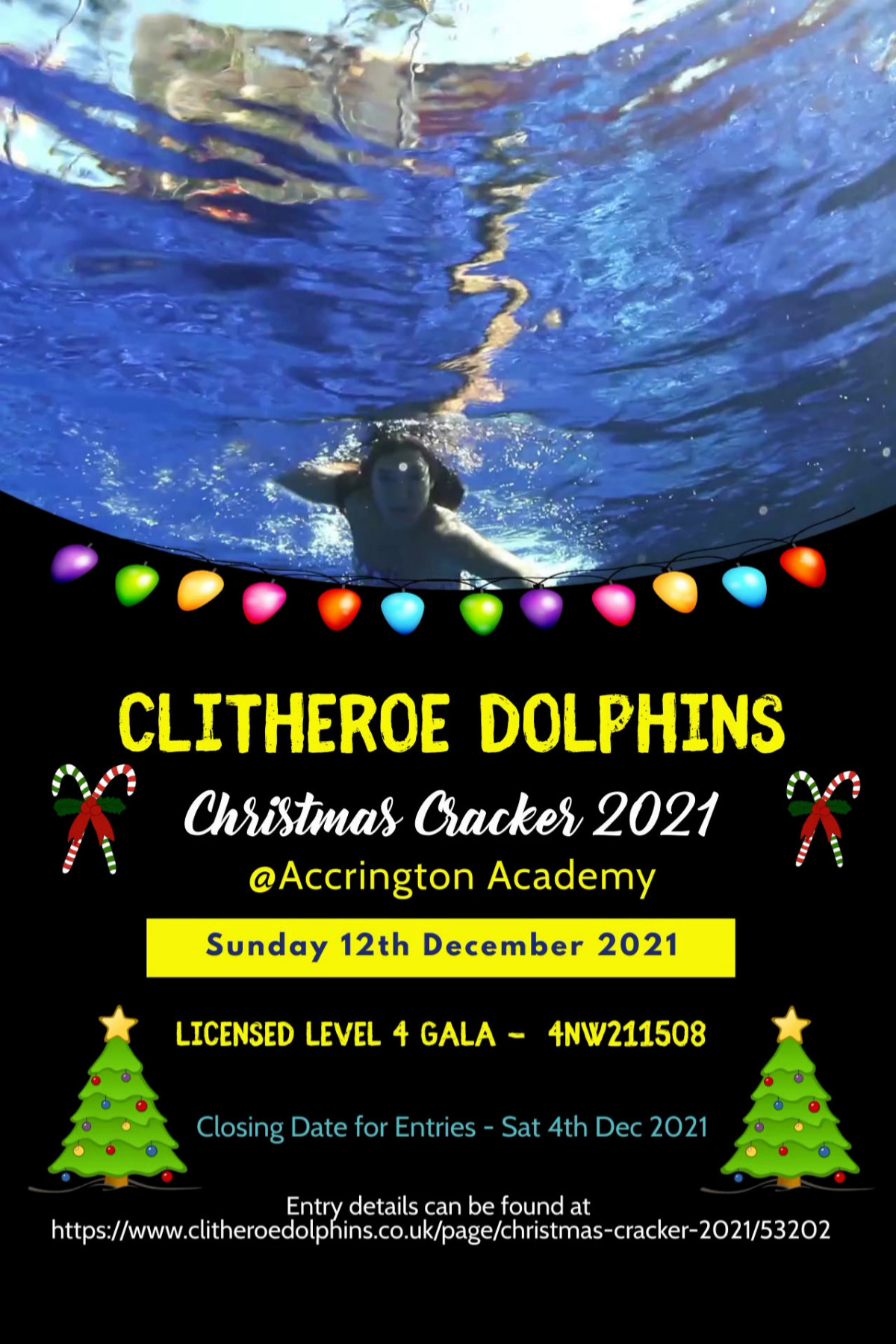 We are pleased to announce our annual Christmas Gala will be a registered Level 4 event taking place on Sunday 12th December 2021 at Accrington Academy. The event will take place over 4 short sessions with the aim of giving as many swimmers as possible the chance to compete, not only from Dolphins but also some other local squads with which we are forging links.
There will be 50m & 100m events in all four strokes as well as a 200m Freestyle and 200m Ind. Medley. In addition to these standard races, session 3 starting just after lunch, is a shrimps gala for swimmers under the age of 9 years old and those slightly older who have only just begun their swimming journey but aren't quite ready to race over 50m.
To add a competitive twist to the day, only the winners of the Shrimps events and the 200m Freestyle, 200m IM and 100m Butterfly will be decided via the traditional heat declared winner method. For the other events (50m & 100m) we will be holding finals with the 6 fastest qualifiers from the mornings events at each age group racing off against each other in a winner takes all final.
Below is all of the information relating to the event and the entry forms:
Swimmers registered to Clitheroe Dolphins should click here to enter the event.
Swimmers from invited clubs should enter via their own clubs using the form below
Club Summary Entry form to be returned by the gala secretary.
Final Accepted Entries List
---
19 Apr 2022

Details for our trip to Stocksbridge PentaquaOnly a few days to go before we make the trip to Sheffield to attend the Stocksbridge Pentaqua Spring Meet @ Ponds Forge. Here is everything you need to know!

17 Apr 2022

National Championship Success @ Scottish NationalsArchie Lorimer, our lone Dolphin, made the trip up to Tollcross Leisure Centre in Glasgow for the Scottish Nationals over the Easter weekend and came back with GOLD!!

06 Apr 2022

Changes to TrainingDue to the Galas taking place on a two Saturdays late in April the following changes to training are required.