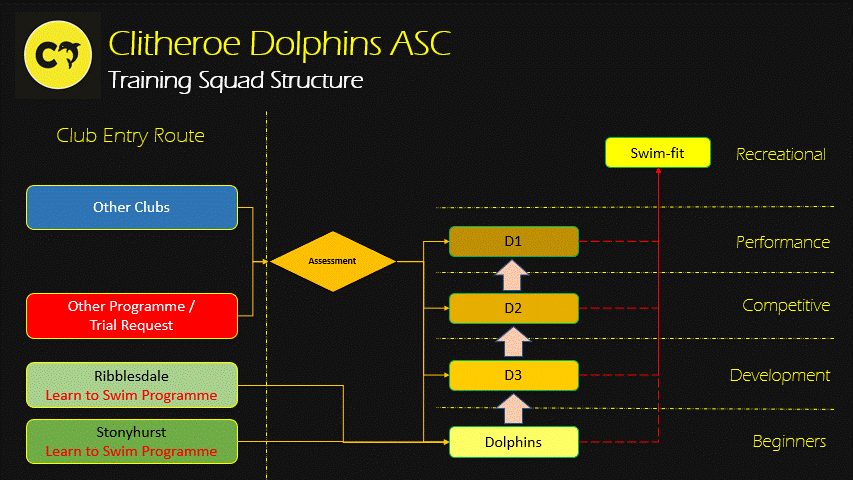 As a club we aspire to develop our swimmers to be the best they can possibly be. In order to achieve this we operate a tiered squad structure which tailors training to meet both the swimmers aspirations and their abilities.

We currently work with our local 'Learn to Swim' schemes at both Ribblesdale and Stonyhurst pools, both of whom provide the building blocks for a good swimming technique. Once the swimmers reach level 6/7 of the ASA scheme they are encouraged to join the Dolphins squad structure.

From the first steps in competitive swimming with our "Dolphins" group, through to our "D1" competition squad, there is a training group to suit all swimmers. The Club is organised into four basic training sections:

Our entry squad is the Dolphins section and this group generally comprised of younger swimmers (7-11yrs) who are starting their journey into the world of club swimming. Swimmers in this group are encouraged to compete in club galas and microleague teams whilst learning what the world of competitive swimming involves.

Once swimmers have mastered the basics of competition swimming they are moved to join our D3 squad. This group focuses on what is required to be a competitive swimmer by building on the basic skills developed in the Dolphins group and starting to learn racing techniques. Swimmers in this group are encouraged to enter 'Open' galas outside of the club and test their abilities in competition.

The next step is onto our D2 & D1 squads, swimmers in these groups have experienced competition and are looking to improve, with the ultimate aim of attaining county, regional and national qualification times.

We also offer a swim fit squad for swimmers at the end of their competitive journey. This session offers coached sessions for swimmers with a range of aspirations from general fitness to competing in triathlons.
---
19 Apr 2022

Details for our trip to Stocksbridge PentaquaOnly a few days to go before we make the trip to Sheffield to attend the Stocksbridge Pentaqua Spring Meet @ Ponds Forge. Here is everything you need to know!

17 Apr 2022

National Championship Success @ Scottish NationalsArchie Lorimer, our lone Dolphin, made the trip up to Tollcross Leisure Centre in Glasgow for the Scottish Nationals over the Easter weekend and came back with GOLD!!

06 Apr 2022

Changes to TrainingDue to the Galas taking place on a two Saturdays late in April the following changes to training are required.